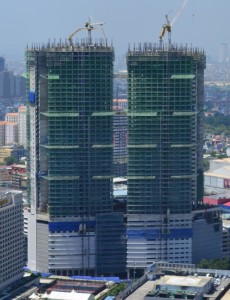 ONE SHANGRI-LA PLACE, The latest quality project of Shang Properties Realty Corporation, One Shangri-La Place is a luxury twin tower residential development that will stand atop a 6-level mall and joins the company's prestigious roster of residential and commercial developments (The St. Francis Shangri-La Place, The Shang Grand Tower, The Enterprise Center and Shangri-La Plaza Mall).
NEMA, as specialty contractor is carrying out the Supply and Installation of MM Powerplus BICC technology Busway System contract packages of the project.
The project has started on March 27, 2012 and is expected to be completed by August 2013..