NEMA has been manufacturing electrical products for 34 years since 1979. Our Manufacturing Plant was built to cope up with the ever increasing market demand of Motor Control Centers, Switchgears and Panelboards.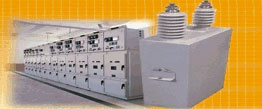 All fabrication and paint finishing of switchboards, panels and MCC's is carried out in our own plant enabling us to offer customized design and maintain a close control on quality.
As well as sheet steel, we can offer fabrications in aluminum or stainless steel.A wide variety of colors and shades are available in either a smooth or textured finish using powder coating or stove enameling.
Following on from our design phase, all of our motor control centres, ECB's and panelboards are cut or punched, using our handy facilities and painted and assembled to strict quality assurance standards.